NEWPORT NEWS, Va. — The Newport News Police Department on Monday announced memorial service details for Officer Katie Thyne.
All are welcome to attend the service to celebrate the life and service of the officer on Monday, February 3 at 6 p.m. It will take place at the Liberty Baptist Church at 1021 Big Bethel Road in Hampton.
Officer Thyne, 24, died after a car dragged her about a block before it crashed into a tree and pinned her Thursday night. The car had been pulled over in a traffic stop.
Police said the driver, Vernon Green II, took off while Thyne was caught in the driver's side door. Thyne died at Sentara Norfolk General Hospital from her injuries.
On Saturday, fellow officers escorted her body in a procession from the medical examiner's office in Norfolk to Altmeyer Funeral Home in Newport News. The procession paused briefly at Newport News Police Department's South Precinct, located at 3303 Jefferson Avenue, where Thyne was assigned.
In an emotional news conference on Friday, Police Chief Steve Drew said Thyne, who had been with the Newport News Police Department since 2018, left behind her mother, a brother, a stepfather, a partner, and a 2-year-old daughter.
Newport News Police✔@NewportNewsPD
Please join us in honoring and remembering the life of Officer Katie Thyne.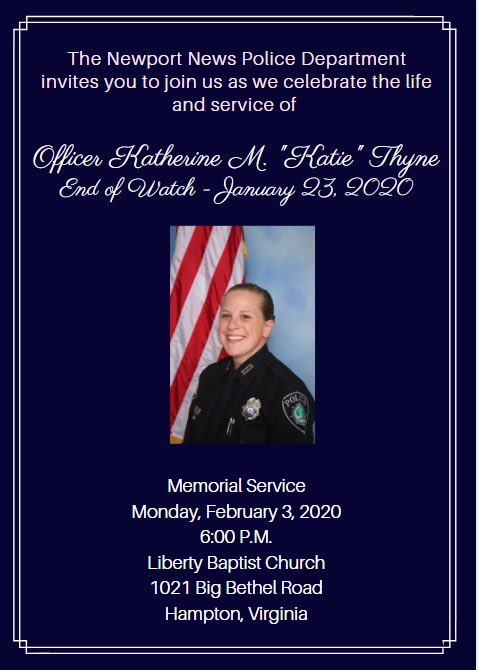 Always be informed. Get the latest news and information delivered to your inbox